JUTTA
& THE
HI-DUKES
Store
The Chicago Reader newspaper's February 12, 1982 interview of the Balkan Rhythm Band
Club Dates: strange beats from the Balkans
By jazz critic, Neil Tesser
What is the Balkan Rhythm Band, you ask?
"We're the only band playing quite like this in America," says Terran Doehrer, and there is very little reason to doubt him. Doehrer is the leader of eight Chicagoans — none of whom is Balkan — who've become quite the rage among local folk dancers by playing the music of Eastern Europe (Macedonia, to be exact). But while they're continuing to hone their skills as an authentic-sounding Balkan dance band, Doehrer and company are also pushing toward "art" music, the kind of stuff you might want to just listen to.
Of course, to do that, they can't lose touch with the music's roots; as Howard Levy (the versatile jazzman who is sort of the band's cofounder) says, "You can't be intellectual about this, this is dance music. You've gotta feel it in your body, and you've gotta watch the feet of the dancers." Otherwise, you're liable to find a pajdushko rhythm slipping into some kind of chetvorno, or even — perish the thought — a devetorka (which literally meand "thing in nine" — a reference to the number of beats per measure).
Well, how did the Balkan Rhythm Band learn to play these things?
Doehrer, who had been fascinated by the music he'd danced to as a member of the Balkanske Igre folk-dance club, began transcribing pieces of the music from the records often used at folk-dancing get-togethers. "I've done more than 150 now," says Doehrer — which, as Levy points out, is a monumental task. "I never could figure out how to write it," he admits, "because I never could separate the ornamentation" — the little flutters and shakes and dips essential to performing the music — "from the melody. It's a very different concept."
So how did Doehrer get so involved with Balkan music?
When he first came across the Balkanske Igre, Doehrer — who also works as a production assistant at the Reader — was instantly transported to his childhood. "My father was a Wobbly, and back then the union was real ethnic, so I recognized the music." Doehrer had played flute and oboe in high school, and sung in the Chicago Children's Choir, and when he ran across a fellow Igre member who had a kaval, he was fascinated. The kaval is a strange, end-blown wooden flute, and it is designed to play in a modal scale peculiar to the music of Eastern Europe: that is, it doesn't play the chromatic scale that forms the basis of Western music, from Bach to Prince. "It was real hard to play," he says; "it took me about four hours to figure out how to play it." Levy, who can play seemingly everything else — in the Balkan Rhythm Band he plays saxophones, ocarina, and harmonica, and incidentally is one of the best jazz pianists in Chicago — still can get nary a note from the kaval. "The reason it's so hard," adds Terran, "is that the head of the flute is not formed; your mouth makes the flute head. You have to figure out what you're doing inside of your mouth."
Well, then how did Doehrer get to be a fairly top-flight kavalist?
"About six months later, a woman I know — she's a friend of the guy who was like the first kaval player for Radio Belgrade for 30 or 40 years — and every time he visits America, he visits her. And she got us together for about four hours, and we just sat around and played music. He doesn't speak English and I don't speak Macedonian, so I just tried to imitate him."
So how did the Balkan Rhythm Band come together?
"Well, the music director for Balkanske Igre quit; and since nobody else was around, I decided to do it," says Doehrer. "So I put an ad in the Reader …" "And this is real funny," Levy picks up, "because I never read the classifieds section. Once a year, I'll pick it up and see if anybody is selling a good used alto sax cheap. So I look, and here's this thing that says, 'Bass players — can you play in 11/16 and 7/8 time?' (Those are a couple of common rhythms in Balkan music, although they tend to make musicians in the West quail and quake.) And it said 'Balkanske Igre' underneath it. So I thought, "This is really weird. It sounds like this guy is trying to start a Bulgarian band.' And I'd really wanted to start playing that music for two or three years."
Levy, it should be noted, has always been of an exploratory bent, and is one of a handful of musicians who wouldn't be scared off by such an ad. In fact, he''s one of a handful who could even understand it. "I was getting all sorts of weird responses when I simply advertised, 'Balkan band forming.' You know, calls like, 'Gee, ya make money?' or 'Izzat the name of the band?' Finally, to just weed out the idiots, I put in the ad about 11/16 time. I thought he was a weirdo, too, because he said, 'Wow, I play a lot of instruments' — but he knew what a kaval was, and he recognized it as Bulgarian right from the start."
From that base, the Balkan Rhythm Band began forming by dint of contacts in the music world: it has now grown to include Sandra Korelc on woodwinds, Steve Roberts and Pat Fleming on guitars, Marlene Rosenberg on bass — with several members learning to spell Doehrer on the daraboka (small clay drum) and Levy on the tupan (double-headed drum) — and, most recently, vocalists Pam Gellen and Flo Fooden.
"It's real flippy when they start singing," says Levy — who points out that the band is different from its Macedonian models in that it also includes women as instrumentalists ("Women don't play over there — they sing"). "Western singing," Doehrer adds, "is very clear, whereas this singing is a very wide-open sound: blaaaaaah." What's more, the singers are arranged to feature one as melodist, and one as a sort of drone harmony. "They sound like bagpipes," says Levy.
And so, for the past two years or so, the Balkan Rhythm Band has been learning new rhythms, reading new transcriptions, and supplying the pulse for a surprisingly tight-knit body of Chicago folk dancers. "Pulse" is a key word, because — as Levy and Doehrer agree — one has to feel their music in "pulses" in order to play it. "It's safer to think of something, say, in 11 as being pulses — quick, quick, slow, quick, quick — than it would be to count it as 2 beats, 2 beats, 3 beats, 2 beats, 2 beats." Besides, as Levy explains, those groups of two or three beats aren't always exactly two or three beats; a piece in 11, for instance, is a little more like 10⅝.
So how did these guys get so good at this music that sounds like it would be impossible?
Well, partly because a renowned Macedonian musician named Stevo Teodosievski spent five hours rehearsing them, with inspired drive, one afternoon when he was passing through town. ("He was so exited to hear people in America playing this music," remembers Doehrer.) And partly by paying close attention to the most foreign of sounds — "The first time I heard this one piece," says Levy, "I'm thinking, 'These guys sound like a bunch of drunks falling down.' Then I thought, 'Wait a minute — they're all lurching at the same time!'"
Mostly, thought, because they all know that you shouldn't think too much or else the music won't work. "We're all inexperienced at this,' says Levy, "and Terran is just less inexperienced than the rest of us." And says Doehrer, "I came at this totally as a folk musician; I couldn't even read music for the kaval. The less you know about musical notation" — and all the other "brain" aspect of this music — "the better you do.
"That's why I was so good at it from the start; I didn't know any of that stuff."
—Neil Tesser
Jazz critic for the Chicago Reader, Chicago's Free Weekly newspaper — Friday, February 12, 1982 Volume 11, No. 18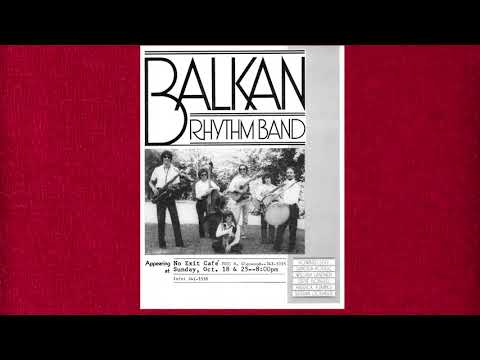 "Shote For Esma And Stevo"
Click to see this music video made using a track, "Shote For Esma And Stevo," from "The Jazziest Balkan Dance Band Around" LP, in all its seven-piece band glory, as the video's sound track! This tune was written by Terran Doehrer, the band's founder and leader.
Flying Fish Records LP FF314
Thank you!
We appreciate your support!